The Houseplants Wiki
Your ultimate reference when it comes to houseplants and anything else that grows - a reference that you can edit!
Welcome to the houseplants wiki. This project currently boasts 23 articles, a number that increases daily. Come share the passion with us!
Houseplant wiki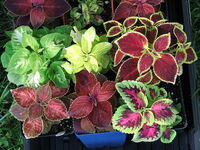 Welcome to the Houseplants wiki!! This wiki was created with the intent to share knowledge about the wonderful world of houseplants. Whether it is about information on a specific plant, pest, method of culture or anything else closely or loosely related with them, you can be sure to find on the houseplants wiki what you are looking for - and if you feel there is something missing here, feel free to add it! The Houseplant Wiki is free and easy to edit, so that plant lovers worldwide can unite to build the ultimate houseplants resource on the web.
With the hope that our contain will help you take care for your own plants, we wish you a happy reading!
Plant Index
The plant index is the easiest place to find all the plant articles of this wiki. Plants are classified in several different ways, making it easy to localize a particular plant, via the alphabetical list, or to find a whole bunch of plants matching a criterion, such as taxonomical family (ex.: Arecaceae, Cactaceae, Orchidaceae, etc), required light intensity, etc.
Access the plant index
Methods
Template:Main Page/Methods
Vocabulary
There is much terminology in the worlds of horticulture and botany; the Houseplant Wiki has given itself for additional mission to keep its own dictionary so that no word written in our article is an unsolvable mystery for the reader.
Access our vocabulary entries
Pests

If there is a frustrating aspect of horticulture, it's all the pests that may surge from a somewhere we all wish they had stayed to assault our plants in their quest for food. The Houseplant Wiki holds a dictionary of all pests and diseases that may plan on feasting on your plants and drive you mad. It also provides solutions on how to control and eradicate them. You are encouraged to submit your own tips. The Houseplant Wiki strives to promote as green a world as possible, so make sure your tips are as close as possible to 100% bio!
Pest and disease index
Latest articles
Here is a sample of the most recent articles included in our database:

Help to get you started
You decided to help us? Thank you! We are glad you stepped in. We realize there may be quite a few things confusing for you if you are new to wiki editing, so we have some documents to help you master wiki edition and become a regular contributor. We suggest that you have a read at the following articles to help you:
Featured article
Musa acuminata (common name: Bananito) is a species of the genus Musa that originates from Southern Asia. The plant made its apparition in Occident after a British resident of Mauritius sent two specimens to Sir Joseph Paxton of the Young's Nursery in Epsom. The plant was an instant hit and spread from there, including to Oceania via a missionary who introduced it in Fiji, Samoa, Tonga and Australia, where it established itself as a major crop. This plant is indeed the one from which the Cavendish banana commonly found in groceries originates.
The community
The Houseplant Wiki is a sprout of a wiki that aims to become a large and venerable tree. So far, we are not many working on the project; we hope that you will enjoy this green heaven and decide to stay around!
If you have any question about the wiki itself or about editing, you should ask our administrator, Yannzgob.
We have a discussion page, the Greenhouse. Don't hesitate to drop by the place and ask questions, propose things or join ongoing discussions!
Did you know that...
Template:Main Page/Did you know
About the project
The Houseplant Wiki was created on January 8th 2008 by Ultraice; the wiki however became dormant right away and was ultimately revived by Yannzgob in May 2009. The Wiki's aim is to provide information about houseplants - general information about who they are, what are their needs, how to give them optimal caring and breed them. The Wiki also aims to build a strong database of pests and diseases that may affect houseplants and of all treatments possible, ideally as green as possible. The Wiki is however not restricted to house plants and intends to cover every aspects of horticulture, including gardening.
Expect the Wiki to offer a deep theoretical backing of botany, as per the administrator's formation. However, editing is totally open to anyone interested in participating in this wiki's effort, whether you are a biologist or an amateur gardener. We all have something to teach to someone, and this is in this spirit that the Houseplant Wiki lies.
Houseplant Wiki Projects
Template:Main Page/HPW projects